Mobile Deposit
We know you're busy. Why not save a trip to the bank?
Save time and gas by easily depositing your checks wherever you may be. Now you can make a quick and secure deposit of your checks with our Mobile Banking App. You can even check you balance, find ATMs, pay bills and transfer funds.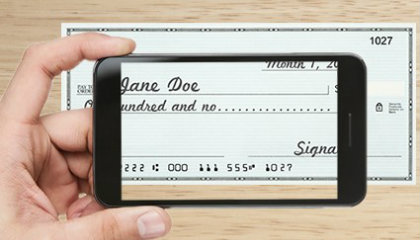 How It Works

With Frontier Banks Mobile Banking App, you can deposit checks via you Mobile phone anytime, anywhere!
It's Free!
Deposited checks are credited same day (if received by 2PM central time cutoff)
Hold original check for 14 days and make sure the check has posted to your account, then write VOID on the front of your check and destroy the check.
You don't have to drive to the bank anymore to deposit your check

Educational Tips

Educational Tips on using Mobile Check Deposit

Before logging into the Mobile Deposit app, close all other apps running in the background on your mobile phone.
Sign/Endorse the back of your check, Example: Signature For Mobile Deposit Frontier Bank MM/DD/YY
When prompted for the amount, carefully enter the check amount to ensure it matches the amount written on your check.
Flatten folded or crumpled checks before taking your photos.
Keep the check within the view finder on the camera screen when capturing your photos.
Try not to get too much of the areas surrounding the check.
Take the photos of your check in a well-lit area.
Place the check on solid dark background before taking the photo of it.
Keep your phone flat and steady above the check when taking your photos.
Hold the camera as square to the check as possible to reduce corner to corner skew.
Make sure that the entire check image is visible and in focus before submitting your deposit.
No shadows across the check
All four corners are visible
Check is not blurry
The MICR line (numbers on the bottom of your check) is readable.
Verify Check was accepted and processed by the bank. Look for green check mark in the deposit review area
Funds are available the next day after processing
Cut off time is 2:00 pm CST
Hold original check for 14 days and make sure the check has posted to your account then write VOID on the front of the check and destroy the check
If the deposit has not posted or you have any difficulties, please contact Frontier Bank as soon as possible.