Virtual Tellers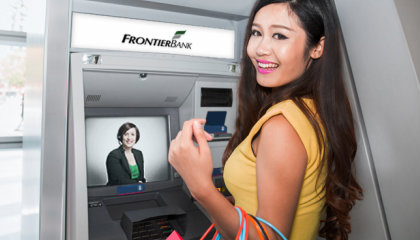 Even if you're in a hurry, you can connect to a familiar face at Frontier Bank to perform your regular banking business. Our new ITMs will let you make deposits, withdrawals, transfers, loan payments, cash checks, account requests, and more, all with the help of a live teller.
How is a ITM different from an ATM?
Each time you use a ITM you will be connected with a teller to have a face-to-face conversation as you conduct your transaction. In addition, ITMs allow you to conduct more transactions than an ATM, including deposits, withdrawals, account transfers, loan payments and more!
Will the ITM replace employees?
ITMs are an extension of our people and not a replacement for them. The machine is fully operated by a live person on the other end, and is there to help you as you conduct your transaction without losing the personal touch that we all value so much.
How do I use a ITM?
Simply touch the 'Start' button on the screen and a Frontier Bank teller will appear to assist you with your transaction. Once connected, you will be able to see and speak with a live person that can easily walk you through your transaction
Will my conversation be private?
Yes, Frontier Bank ITMs offer a number of ways that you can maintain privacy as you conduct your transaction. Walk-Up ITMs have handsets available. Drive-Up ITMs provide you the option to adjust the volume on the speakers or plug in your own headset. You can also utilize the chat feature on the screen to type messages, or scan a written message on a piece of paper for the teller to read. Your privacy is important to us and ITMs allow you the flexibility to choose how you communicate with a teller.
What hours will ITMs be available?
ITMs will be open from 7AM-7PM Monday through Friday. In addition, ITMs will be open from 9AM-1PM on Saturdays.
1)No account or obligation necessary to win. 2) To enter: The sweepstakes begins October 1, 2018 at 7:00 am Central Daylight Savings Time (CDT) and ends October 31, 2018 at 7:00 pm CDT ("Sweepstakes period"). Each individual will be entered every time they perform a transaction on the Interactive Teller Machine (ITM) with a limit of one entry per day. The ITM is located in the lobby and/or drive-up lane of Frontier Bank in Rock Rapids, Little Rock, George, IA as well as in the lobby and/or drive-up of both Frontier Bank's in Sioux Falls, SD and is available for use during normal ITM hours (Monday – Friday 7:00 am – 7:00 pm CDT and Saturdays 9:00 am – 1:00 pm CDT). Entries become the property of Frontier Bank and will not be returned. The Sweepstakes is open to any individual regardless if they have an active account with Frontier Bank or not. 3) Eligibility: Sweepstakes is open to legal U.S. residents, 18 years of age and older as of October 1, 2018. Employees, Shareholders, and directors of Frontier Bank, its parents, subsidiaries, affiliates, suppliers or their immediate families (spouses, parents, children and sibling, and each of their respective spouses) and member of the household of such individual are not eligible. Void where prohibited or restricted by law. The Sweepstakes is subject to all applicable federal, state and local laws, regulations and taxes. By participating, entrant agrees to abide and be bound by the Official Contest Rules and to accept the decision of Frontier Bank as final in all respects. The winner may be required to establish eligibility and complete an affidavit of eligibility within fourteen (14) days of the winner being selected. Failure to comply with these Official Contest Rules, and/or failure to execute and return the required documents within the fourteen (14) days will result in disqualification and forfeiture of the prize. In that event, Frontier Bank may or may not, at its sole discretion, award the prize to an alternative qualifying winner. 4) Prize: Two qualified winners will receive "Free Pizza for A Year". One prize consists of 12 Casey's General Store Vouchers; each voucher is redeemable for 1 Large Specialty Pizza from the Rock Rapids or George, IA Casey's General Store locations pursuant to these Contest Rules. One Prize consists of 12 Fiero Pizza vouchers; each voucher is redeemable for one Fiero Pizza from the Sioux Falls, SD location pursuant to these Contest Rules. Prizewinners will be drawn from qualified transactions. 5) Prize Restrictions: Federal, state and local taxes, and any expense relating to the acceptance and use of the prize not specified, are the sole responsibility of the winner. Limit one prize per person. Pizza subject to availability. 6) Drawing: On November 1, 2018, Prizewinners will be randomly selected. Drawing will be conducted at Frontier Bank in Rock Rapids, IA. Winners need not be present to win. 7) Odds: Odds of being selected as a sweepstakes winner will depend on the total number of eligible entries received and write-in entries. 8) Winners Notification/Prize Awards: Winner will be notified by phone. 9) Additional Terms: By participating, entrants agree to: a)The Official Rules and the decision of the employees and Frontier Bank, which shall be final in all respects; b) release, discharge and hold harmless, Frontier Bank, their respective parents, subsidiaries, affiliates, officers, directors, employees, advertising and promotional agencies, and suppliers from any liability, claims, or damages arising out of their participation in the Sweepstakes, and the acceptance, use, misuse, or possession of any prize. By accepting a prize, the winners agree to, where legal, the use of their names, hometown and likenesses for advertising and publicity purposes without additional compensation or consideration. 10) Limitations of Liability: Frontier Bank is not responsible for the printing of or typographical errors in any Sweepstakes-related materials; for technical issues that may arise which may cause the ITM to be inoperable for any period of time; for stolen, lost, late, misdirected, damaged, incomplete, illegible, or postage-due mail or entries; or for transactions that are processed late or incorrectly or are lost due to computer or electronic malfunction. Frontier Bank reserves the right to cancel or modify the Sweepstakes if fraud or technical failures compromise the integrity of the Sweepstakes as determined by Frontier Bank in its sole discretion. 11) Winners list: for the name of the winner, mail a self-addressed, stamped envelope to: "Frontier Bank ITM Promotion, Marketing Department, PO Box 551, Rock Rapids, IA 51246". Requests must be received no later than November 30, 2018. 12) Frontier Bank may prohibit entrants from participating and disqualify entries if entrants enter through means not described in the rules, attempt to circumvent the rules, or act with intent to annoy or harass any other entrant or Frontier Bank. Frontier Bank reserves the right to cancel or suspend the Sweepstakes. All decisions are final. FRONTIER BANK MAKES NO WARRANTY, REPRESENTAITON OR GUARANTEE, EXPRESS OR IMPLIED, IN FACT OR IN LAW, RELATIVE TO THE USE OF THE PROMOTON PRIZE INCLUDING, BUT NOT LIMITED TO QUALITY, MERCHANTABILITY, OR FITNESS FOR A PARTICULAR PRURPOSE. Entrants agree that any and all claims, disputes and causes of action arising out of this Promotion shall be resolved without resort to class action, exclusively by the appropriate courts in Lyon County, Iowa in accordance with the laws of the State of Iowa, without giving effect to conflict of law rules which would cause the application of the laws of any other jurisdiction. 13) Sponsored by Frontier Bank, 301 First Avenue, Rock Rapids, IA.